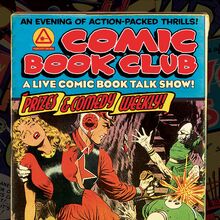 Welcome to the Comic Book Club Wiki
Edit
Comic Book Club is a New York City-based media empire of podcasts, videos, and live shows about all things comic books and comics media. This wiki catalogues everything about Comic Book Club.
Describe your topic
Edit
Comic Book Club is hosted by Alex Zalben, Pete LePage, and Justin Tyler. The theme is performed by Kimmy Gatewood.
Official Sites
Edit
Comic Book Club has a presence on a number of social media sites:
There are several different podcasts produced by Comic Book Club:
| Podcast Name | Notes |
| --- | --- |
| Comic Book Club (podcast) | This is the podcast that started it all! A podcast recording of their weekly live show. |
| The Stack | An expanded version of "The Stack" segment of the podcast, where several of that week's comics are reviewed. |
| The Week in Geek | (PATREON EXCLUSIVE) This is an expanded version of "The Week in Geek", exclusively available to Patreon subscribers. |
| Riverdale After Dark | A podcast all about the television show Riverdale. |
| Chilling Podcast of Sabrina | A podcast all about the Netflix series Chilling Adventures of Sabrina. |
| Inside Legion | An exploration into the fractured mind of David Haller. |
| Cloak & Jabber | Tyrone Johnson & Tandy Bowen are two troubled kids trying to make it in this crazy world, but Pete hates them anyway. |
| After Krypton | A podcast about a show that was supposed to be Game of Thrones meets Superman, now who the hell knows what it is |
| Preacher Men | They talk about that show (on AMC? HBO?) with Howard Stark (the one who looks nothing like John Slattery) & Raina from Agents of SHIELD, who was actually nominated for an Oscar?? I don't actually watch this show so someone else edit this part. |
| American Godcast | I'm only about 90% sure that this is the name of this podcast. It's about a show that supposedly had a pretty good first season, but there are only so many hours in a day. |
Latest activity
Edit
Photos and videos are a great way to add visuals to your wiki. Add one below!